RELIEF AND RELAXATION
Relief Lotion
Advanced CBD Relief Lotion is a 100% natural and organic body lotion that has been expertly formulated to soothe aches and discomfort in muscles and joints, while promoting an overall sense of balance and well-being.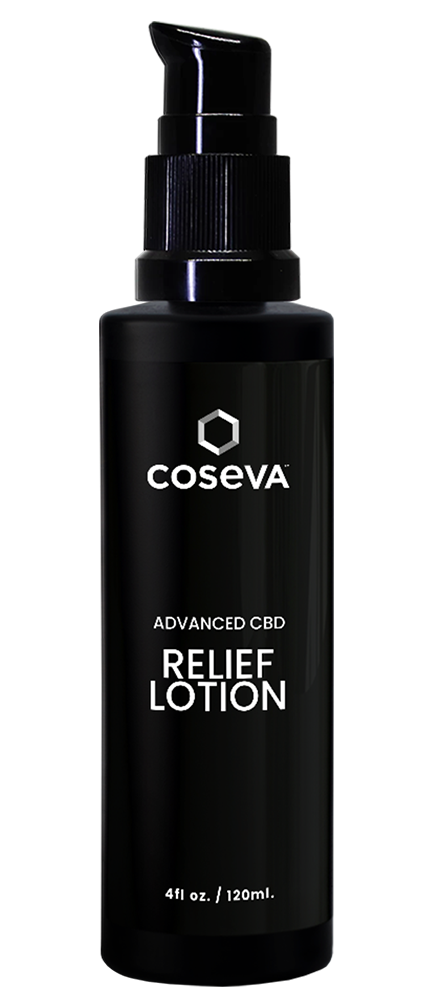 HEALTH & WELLBEING
Advanced CBD – Relief  Lotion
RELIEF & RELAXATION
Promote Balance for Body & Mind
Advanced CBD Relief Lotion is a 100% natural and organic body lotion that has been expertly formulated to soothe aches and discomfort in muscles and joints, while promoting an overall sense of balance and well-being.
Meticulously crafted with the powerful benefits of CBD, menthol, peppermint oil, and other powerful ultra-natural oils and minerals, this lotion delivers a calming and therapeutic experience that is perfect for those seeking relief from everyday stressors. Combined in their clinical-grade concentrations, these powerful botanicals provide a soothing anti-inflammatory and anti-stress experience that must be felt first-hand to be believed.
This lotion is perfect for occasional use to help ease tension and discomfort, or as a valuable addition into your daily self-care routine. Whether you're dealing with sore muscles after a workout or just need an extra dose of relaxation and tension relief, this lotion is the perfect solution.
Suggested Use:
Apply topically to the desired area as needed. Massage with fingertips until fully absorbed.
Caution: Avoid contact with eyes. For external use only. If you experience any adverse symptoms after use, please discontinue and consult your doctor. This product is not intended for pregnant or lactating mothers.
KEEP OUT OF REACH OF CHILDREN
Store in a cool, dry place away from light. Do not use if safety seal is broken or missing. This product contains CBD oil which is extracted from Hemp.
CBD – Full Spectrum Hemp: 1000mg
Other Ingredients: Ultra-Pure Water, Glyceryl Stearate, Organic Mentha piperita (Peppermint) Oil, Hydroxypropyl Methylcellulose, Organic Mentha arvensis (Menthol) Oil Crystals, Organic Cinnamomum camphora (Camphor) Oil, Organic Vegetable Glycerin, Coco-Caprylate, Cetearyl Alcohol, Organic Gaultheria procumbens (Wintergreen) Oil, Organic Cannabis sativa (Hemp) Oil, Behenyl Alcohol, Organic Arnica montana (Arnica) Flower Extract, Organic Helianthus annus (Sunflower) Seed Oil, Organic Eucalyptus globulus (Eucalyptus) Oil, Organic Rosmarinus officinalis (Rosemary) Oil, Fulvic Acid, Sodium Stearoyl Lactylate, Xanthan Gum, Glyceryl Caprylate, Glyceryl Undecylenate
ORGANICALLY GROWN HEMP
NON-GMO
*Manufactured in a facility that also processes soy, tree nuts, and egg.
** 0% THC defined as being undetectable using typical analytical methods
Made Using Only Ultra-Pure, 100% Natural Ingredients
Organic Hemp Extract­ – Our full-spectrum organic hemp oil is rich in Cannabidiol (CBD), which is known to interact with a cell signaling system, ECS, resulting in anti-inflammatory and pain-relieving effects.
Fulvic Acid – In the same way that Fulvic Acid has many great benefits for the body when taken orally as a supplement, it is also very beneficial for the skin when applied topically. Our fulvic acid extract is rich in polyphenols, which are particularly beneficial for skin health. Polyphenol extracts are scientifically proven to prevent and reduce UV damage and skin ageing, as well as provide anti-microbial activity.
Organic Peppermint Oil – Peppermint (Mentha piperita) essential oil is a very effective natural muscle relaxant. It is promoted for topical use (applied to the skin) for problems like headache, muscle aches, joint pain, and itching. In aromatherapy, peppermint oil is promoted for soothing coughs and colds, reducing pain, improving mental function, and reducing stress.
Organic Menthol Crystals – Organic Menthol Crystals are obtained by crystallizing Organic Mentha arvensis (Peppermint Japanese) Essential Oil. It is applied to the skin to help relieve minor aches and pains. Menthol produces a sensation of coolness, which the body counteracts by increasing blood flow to the area of application, producing warming effect.
Organic Camphor Oil – Our organically crafted White Camphor essential oil is steam distilled from the branches and wood of the Cinnamomum camphora tree. It is a terpene that can be used topically to soothe aches, irritation, and itching. Camphor is also used to ease chest congestion and inflammatory conditions.
Organic Wintergreen Oil – This oil is steam-distilled from the deep green, minty leaves of the small evergreen Gaultheria procumbens shrub growing in the high elevations of the Himalayan Mountains of Nepal. It is one of the more effective essential oils, and its main chemical component, methyl salicylate, is known to ease pain, inflammation, and muscle spasms.
Organic Arnica Flower Oil – Our organically crafted Arnica oil is produced by low temperature maceration of Arnica Montana petals in sunflower oil for over 8 weeks to extract its lipid soluble compounds. Its anti-inflammatory properties can help ease aching, aid would healing, and sooth insect bites.
Organic Eucalyptus Oil – Our organically crafted Eucalyptus essential oil is steam distilled from the long, green, waxy leaves of the Eucalyptus globulus trees that grow wild in the forests of Australia. Eucalyptus can help to soothe aching and inflammation and ease unwanted muscle spasms. It can also stimulate healthy circulation, bringing a feeling of warmth to the body.
Organic Rosemary Oil – Our Rosemary essential oil is steam distilled from richly aromatic flowers, leaves, and twigs of the Rosmarinus officinalis grown in the Spanish countryside. It is helpful in soothing minor aches and inflammation, especially relating to unwanted muscle tension. Rosemary may be helpful in supporting healthy, clear skin and may help minimize the appearance of older scars.
Join Cosēva as a full or part-time independent partner to help people live happier, healthier, and more active lives.